Day to Read 2009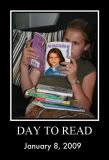 Last year, several bloggers (spurred on by Allison at
Soccer Mom in Denial
) asked the blogosphere to take a day off from blog posting and maybe even web surfing and instead sit down and read something printed on a page. Or several pages. This year, we're asking you to do it again.
January 8, 2009.
That's the date to make note of - in your PDA, on your wall calendar, somewhere. That's when I'd like you to take the day off from blogging and to simply read something printed. A book. A newspaper. A magazine. Whatever you want. And encourage your family and your friends to read something then, too. Because maybe that will trigger something and folks - especially young folks - will start reading more simply for the joy of reading. Here are some recent statistics from the National Endowment for the Arts.
Only 30% of 13-year-olds read almost every day.
The number of 17-year-olds who never read for pleasure increased from 9 percent in 1984 to 19 percent in 2004; that's 1 in 5 kids who don't read for fun.
Almost half of Americans between ages 18 and 24 never read books for pleasure.
The average person between ages 15 and 24 spends 2 to 2 1/2 hours a day watching TV and 7 minutes reading.
So, if you're a blogger who wants to participate, please take a moment to copy the button above to your sidebar and post about
Day to Read
. Or about why reading is important to you. Then on Thursday, January 8, 2009, take the day off from blogging and
READ
! And then come back on Friday the 9th afterward and share your experience.
Thanks!